Cooking Class in Tuscany
Cooking with Costanza: a culinary adventure to awaken and inspire all your senses and allow you to experience the very essence of Italy!
The Renaissance Villa, on a hill with all of Florence spread out below, focuses on regional cuisine that is more regal and elaborate in preparation than in the villages. Set in a heritage-protected five-hectare property with colourful gardens, this is an opportunity to experience the lifestyle of the Tuscan city folk and immerse yourself in Italy as you imagine it in films. Your experience begins al fresco with a tour of the organic herb gardens. You are encouraged to smell, feel and taste the various greens. Learn how to choose the most perfect natural flavour enhancers of Tuscan cuisine. The discussions will cover food traditions, history, and what makes food such an integral part of everyday life in Italy. Of course you choose the freshest herbs for your cooking lesson.
Food choices are seasonal and take advantage of the freshest produce. The first dish to prepare is an authentic antipasto. Too many restaurants ignore antipasti and focus on pasta, but this is a traditional meal to be enjoyed all evening long, and enjoyment of each course is paramount to your culinary experience. The antipasti selection is based on seasonal and local produce. Each course is paired with an Italian wine.
Appetizers are based on both wild and cultivated foods. In spring you might make frittata di carciofi – fried artichoke. Jewish Romans made this dish famous in the ghetto, and it is still a staple of spring cooking. Chef Costanza may thinly slice an artichoke and treat it like a carpaccio – which is usually thinly sliced raw beef or fish – and serve with a deep grassy flavoured olive oil. In summer tomatoes ripening on the vine make delicious bruschetta al pomodoro (tomato bruschetta), insalata caprese (tomato salad with garden fresh basil, oregano and local buffalo mozzarella). Autumn is the season for melt-in-the mouth crostini con i funghi procini (porcini mushrooms in a flaky crust).
A memorable springtime feast might include spinach crepes, artichoke pie, faraona arrosto – roasted guinea fowl seen in the video clip – crispy potatoes, and tiramisu. It might sound like too much food, but with enough wine it all works out. This is "cottura lenta" at its finest – slow cooking enjoying the food all evening.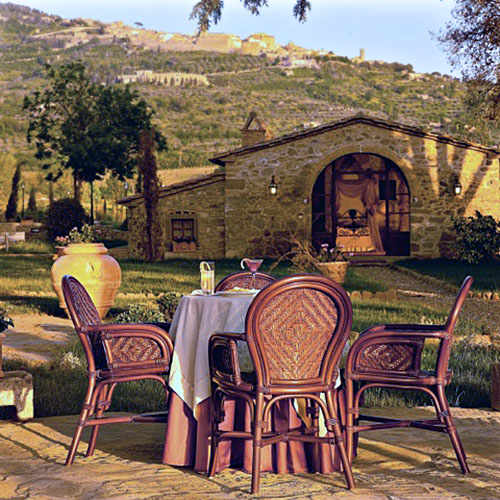 After a few hours of cooking and learning, Chef Costanza sends guests out into the garden for a glass of sparkling prosecco. She says you must clear the nose of kitchen smells in order to better appreciate the food. While we got intoxicated from the scent of fresh flowers – and perhaps more than one or two glasses of prosecco – Costanza's crew set a lavish table in the 15th-century villa before inviting guests back inside to feast on their creations.
Join Eva and cook with Costanza in Italy on a 5-day adventure into the cooking and culture of Florence. Tuscan food and these cooking classes require only an appreciation and passion for good food. You can join in the cooking lessons as much or as little as suits you. We have two group trips planned. The first is an autumn harvest for October 10, 2015 and the second is a spring feast for April 29, 2016. Our style of travel is small and intimate so that you have the best experience. To join the next cooking adventure in Florence, send me an email: info@eviactive.com. If you have your own group (between 4 and 10 people), we can organize dates to suit.
For more details about this fabulous experience, visit eviactive.com/wp-content/uploads/2014/03/Florence-Culture-and-Cooking.pdf
 Faraona del Paradisino
(Roasted Guinea Fowl)
Preparation and cooking time: 1.5 hours
Serves six
Ingredients
•    1 large Guinea Fowl, about 1.5kg (can substitute a whole chicken)
•    sage, rosemary, mirto
•    4 cloves of garlic, chopped
•    6 strips of lemon rind, about 3"-long strips
•    2 tablespoons extra-virgin olive oil
•    2 garlic gloves smashed with the peel + 2 garlic cloves finely chopped
•    30 grams butter at room temperature
•    Salt, pepper
•    Juniper berries, a handful (optional) or a teaspoon of gin for every two berries required
•    1/2 glass of red wine and 1/3 glass of Marsala
•    An extra glass of good Chianti red wine to drink while cooking!
Chop the sage and rosemary finely. Mix with the garlic and butter to make a paste to spread inside the bird's cavity, adding 1 piece of lemon rind. Pour the olive oil into a large pan and place the bird breast-side up. Put the pan on medium heat and brown the bird on all sides. Add the smashed garlic cloves, herbs and remaining pieces of lemon rind. Cook for one minute.
Add the salt, pepper (and juniper or gin, if desired). Cook for two more minutes. Add Marsala and, after 5 minutes, the red wine. Cover the pot with a lid (do not cover tightly), and reduce heat to simmer.
Cook until the meat is very tender, about 45 minutes, checking every 10 minutes and adding a little water if the bird seems dry. Take the bird out of the pot, place on a carving board to rest for ten minutes, covering with a tent of foil.
For the sauce, add enough Marsala to the pan to create a thin sauce, scraping the bottom of the pan to bring up the fond.
Carve the bird or cut it into 8 pieces and serve with the pan sauce.
Note: If you buy a bird already cut in pieces, rub the pieces of meat with the butter/herb mixture before browning.
Buon appetito!
Images: courtesy of Eva Stelzer, Rosewood Castiglione del Bosco and Il Paradisino
By: Eva Stelzer (Article first published in WestmountMag.ca June 25, 2015 http://www.westmountmag.ca/cooking-class-in-tuscany/)
Join us as we cook under the Tuscan sun.
0